Aztec Rising
Eyecon create some of the most popular slots out there, with the likes of Fluffy Favourites in their portfolio. The Aztec Rising slot online takes these developers into a new genre, as they explore South America in this game. Join us as we go along on this journey!
Rules
This slot is pretty traditional in that players are only required to make a matching trio of symbols to win. They come in all shapes and sizes, from poker symbols to fearsome animals and temples. This will help to transport you into the world of the game and fully immerse yourself in the action.
Strategy
This game is fab, so there's not too much that you'll want to be aware of in terms of strategy as they take pretty much everything into account for you. One tip that may help you to win more often is to play it on mobile too, as the more you play the more you can hope to win. It works well across a range of devices and you can use our top of the line mobile site to access it.
Bonuses
The bonus features within this game that you can unlock include:
Pick your prize – When three of the colourful calendar symbols appear, you'll be on your way to some big wins. The Mayan calendar willprophesise big wins for you, just select one of them to start the action. You'll get a couple of picks and whatever multipliers appear will be combined together, it's possible to win up to 100x your bet!
Free spins – Watch out for the big golden coin, as three of them will grant you access to the free spins round. This will give you the opportunity to play for big prizes without spending a penny. Anything that you win during this mini game will be doubled at the end, so keep your fingers crossed for some jackpots.
Substitution – The wild for this game is a temple symbol, which will take the place of all the regular symbols and double their value.
Gamble – When you've won a jackpot from this game, watch out for the gamble button lighting up. This additional game allows you to pick between two options, if you select correctly then your jackpot will be doubled.
Design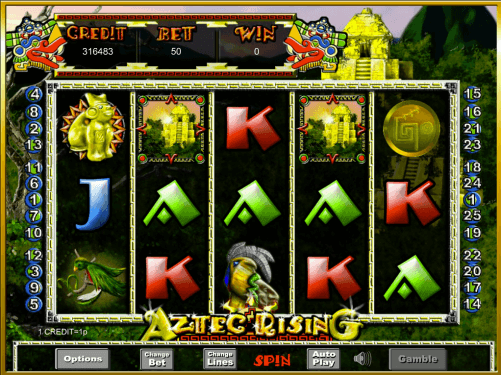 The design of Aztec Rising slots is ace and it will get you ready for a rumble in the jungle in no time. The soundtrack and symbols combine to make an awesome gaming experience, with more than a few jackpots ready to uncover. It's one of our top online slots and if you're looking for some Aztec fun then this comes highly recommended by other players too.
Summary
All in all, this slot game will give you that sense of escapism and rewarding gameplay that most players love. This is a brilliant game that has the potential to deliver massive jackpots, especially if you make the most of those special features. It's a game that's been around for years but still matches what we expect from a modern slot game.