Cupids Arrow
If you're looking for a slot game that will have you falling head over heels then you need to play the Cupid's Arrow slot. This slot game will appeal to your softer side and give you that warm, fuzzy feeling that we all know and love.
Rules
We love slot games that aren't too complex to get to grips with and this game certainly falls into this category. All you need to be able to do is match three symbols that look the same to release a multiplier onto your bet. The more of these symbols that you can match, the higher your multiplier will go!
Strategy
Most slot games are based purely on luck, but there are a few things that you can bear in mind while you play. First off, don't bet anything you can't afford to lose. This is a good rule to follow no matter what type of gambling you're pursuing.
Secondly, if you get bored of hitting the spin button every time, make sure you use the auto play mode. Just hit the button then specify how many games you want it to go for to start.
Bonuses
The Cupid's Arrow slot game boasts a couple of different bonuses for you to unlock. If you look into the paytable you will find:
Match and win – The love heart clouds will trigger this round when three of them make an appearance in a single spin. Match up symbols to reveal a multiplier, you could even win all three of them if you're super lucky!
Prize pick – The luminous pink heart symbol is another way that you can get an added bonus on your bet. Three of them will start the prize pick mini game, in which you select one of these symbols to discover the multiplier that it hides.
Free games – Cupid himself will bestow you with free games within this slot, you can win up to 9 of them when you play. Candy hearts will appear during these games and if Cupid manages to hit them with his arrow, it will end up adding another multiplier to your winnings.
Wild symbol – The golden heart symbol will take the place of almost every other symbol, the only ones that it can't substitute for are the special ones above.
Gamble – Finally, once you've won with all these features you can select the gamble feature for the opportunity to win more. This is a double or nothing game, so use it with caution!
Design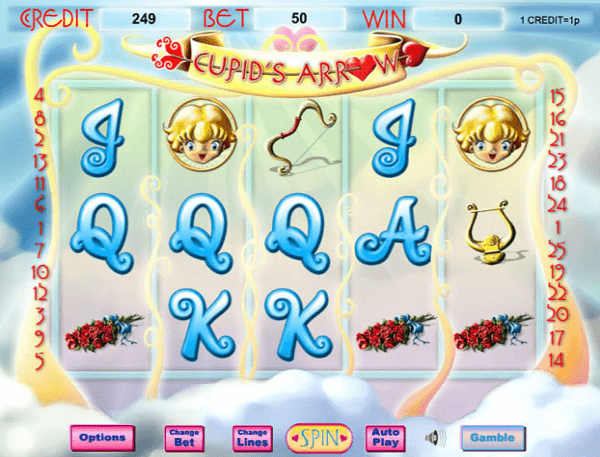 As a bingo site with slots we have lots of these games with all different themes. This one comes with three rows and five reels, with a cutesy theme that will appeal to lots of players. It takes place high above the clouds and there are some heavenly jackpots to help yourself to.
Summary
Cupid's Arrow is a slot game that looks fantastic but it's also home to a load of ace bonus features too. These add to the game and make it one of the best on the internet.