Doubleup Ducks
It is time to take a trip to the fun fair in this light-hearted outing from Playtech. There are big prizes to won for those willing to have a go on the Double-Up Ducks slot with a host of bonus features available to enjoy as well. Slot players of all levels will be able to play this game and there are some excellent ways to pick up some winning combinations. We thought we'd have a few spins and you can find out how we got on by reading our DoubleUp Ducks review.
Rules
Players have to use the 25 paylines on offer to complete winning combinations by spinning the reels. It really is pretty simple once you have had a few spins of the game and remember that if the game malfunctions then this will void all pays and plays so make sure you have a secure internet connection before you begin spinning. The payouts you receive will depend on the combination that you complete so use the paytable for more info on what specific lines pay out.
Strategy
Having a good slot strategy can help you on your way to winning but slot games rely on probability and chance most of the time. However, there are a couple of things that you can do to give yourself the best possible chance of slot success. The game offers a couple of bonus rounds (we will discuss these in detail below) and triggering them from time to time can help you win big. Betting smaller but more frequently can also benefit some players as this means that you have a higher chance of trigger free spins etc.
Bonuses
Playtech is well-versed in creating games with interesting bonuses and there are a couple to enjoy on DoubleUp Ducks. The bonus symbols are the key to triggering them and the first symbol to look out for is the Pink Elephant wild. This symbol will substitute for everything except the scatter and it doubles any win to which it contributes which is great. Players can also receive free spins from time to time with the Target Duck scatter symbol being the key to activating them. Players will receive 15 free spins and also a 3X multiplier for all spins during this round which is great. The feature can also be re-triggered which is great and many more spins can be accumulated.
Design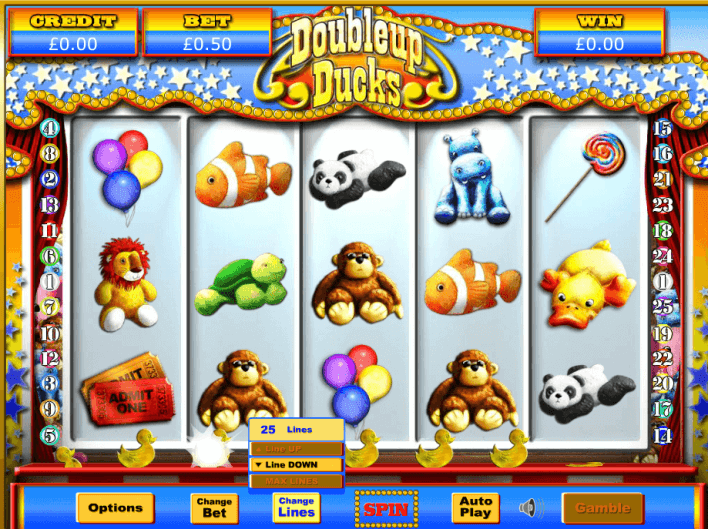 We love the design of DoubleUp Ducks. It is a really simple and light-hearted game to enjoy with plenty interesting fairground symbols on the reels. You will find goldfish, monkeys, ducks, tortoises, balloons, lollypops and admission tickets. The reels are made to look like a stall and there is plenty of colour and wacky sound effects too.
Summary
DoubleUp Ducks is the perfect companion for the player seeking a slot machine based on going to the funfair. There are plenty of paylines to enjoy as well as some great free spins and wild combinations to complete. We really had fun playing it and you can too so check it out if you are looking for a new game to play.