Jurassic Juniors
Let's go back to prehistoric times and get ourselves some giant jackpots! The Jurassic Juniors slot combines the land before time with some awesome payouts. What are you waiting for, this slot is ready to be brought back out of extinction!
Rules
The theme of this game is all about the baby dinosaurs that existed in prehistoric times. These cute little dinosaurs are just waiting to hand you a jackpot when you get three of the same type on a payline. Hit the bet button to change the number of lines you have active and the overall money you have on the game.
The big orange spin button is your next port of call for this game, as hitting it will initiate the action. When the reels stop, the multiplier awarded will automatically be applied to your bet so you don't need to lift a finger! Just keep them crossed instead!
Strategy
This game is really simple and most of how much you win will simply come down to your luck. General gambling tips like not overspending still apply though, so set yourself a budget and make sure that you stick to it! That way, you can have fun and not worry about spending too much in one go.
Bonuses
When you get spinning the Jurassic Juniors online there bonus features that will help you on your way to a win. Here's a quick rundown of these features:
• Free Spins – The dinosaur egg will hatch and deliver you some free games when you find three of them in a spin. The more you see, the more spins you'll get and you can even retrigger the feature when you're playing for free.
• Big Momma – These little dinosaurs are being watched over by their Big Momma and she serves as the wild for the game. She can take the place of any symbol but the scatter above and doubles the value of your winning combination.
These features can work together to make your time on this game much more rewarding!
Design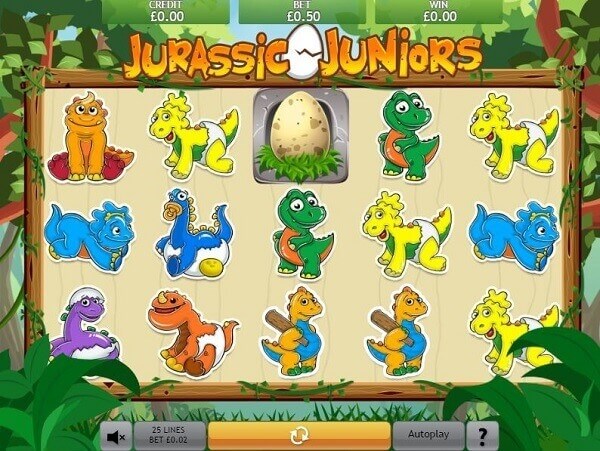 The design of this game is fairly traditional, with three rows and five reels of symbols to get playing with. The actual theme of the game is pretty unique though, as we don't know of any other games that centre on baby dinosaurs. It's the perfect mix of whimsical and potentially profitable.
Summary
This slot game is among our favourites for its quirky theme and special bonuses. These scaly creatures may seem a bit off putting at first but if you give this game a chance, you're bound to fall head over heels with it. Don't let its looks fool you, this Jurassic game is right up to date with the top tech!