Shopping Spree
Going on a Shopping Spree is always fun but not everyone has the luxury of spending lots of cash on a regular basis. However, shopping addicts may be pleased to learn that Shopping Spree by Eyecon lets you hit the sales from the comfort of your sofa. This animated five reel slot has plenty of features and jackpots to enjoy so if you have ever dreamed of going on a huge shopping spree that is funded by someone else then try this game and you never know, you could win the jackpot and go on a real life shopping spree of your own!
Rules
The aim of the game is to spin the reels to form and complete winning combinations and due to the 25 payline structure, there are plenty of ways to do this. It's quite straightforward once you have the hang of it and you can use the paytable to better understand the paylines and how you can pick up winning combinations. If you form a winning combination you will receive a payout based your original bet and any multiplier that comes into play. Easy!
Strategy
Different players adopt different strategies for slot games but in general, there are a couple of ways to make your slot spinning experience as enjoyable as possible. In general, we would advise players to set aside a budget that fits in with your playstyle. Of course, you can bet big and hope that you win big but another strategy would be to bet smaller wagers. This will allow you to get more spins for your money and hopefully, you will activate the bonus features more frequently which can help you win big.
Bonuses
There are some excellent bonus features to enjoy play Shopping Spree. The first symbol to look out for is the Shopper wild symbol and she substitutes for almost everything else and will help the player pick up some additional wins. There is also a Money Bag scatter symbol and this is the key to receiving free games. There are 15 free spins on offer for players who can land at least 3 of the scatters on the reel at any given time. Players will also benefit from a 3X Multiplier during this round which is great. Finally, we have the gamble bonus which allows you to risk your latest win for the chance doubling your money. When you activate this feature, two options will be presented and if you guess correctly you will double your money!
Design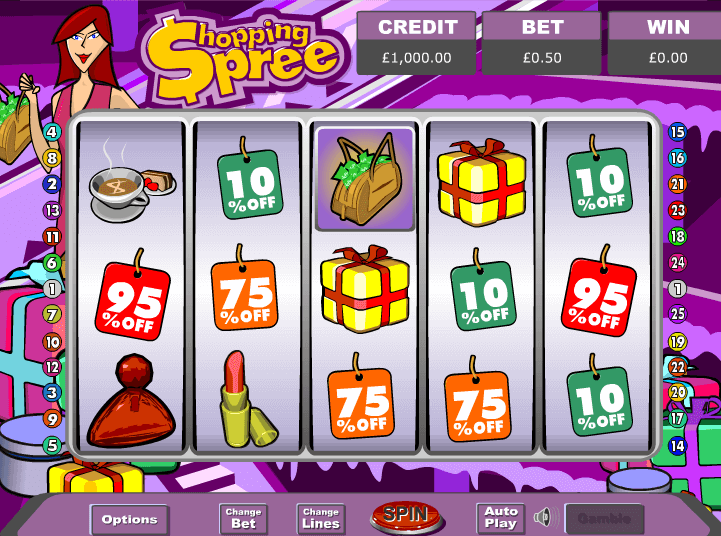 The design of the game is nice enough with a purple background that appears to be a shopping mall with a female shopper displayed. On the reels, you will find items such as sales tags, presents, diamond rings and cups of coffee. It's a relaxing and pleasant game to play overall and the sound effects aren't too bad either.
Summary
Shopping Spree is an excellent choice for the player that is looking for something simple to play that still has plenty of additional features. We racked up plenty of free spins when we played and this slot will run perfectly on the vast majority of devices so if you like the look of it certainly jump in and have a few spins.